Lift High the Cross: 43 Feet of Hope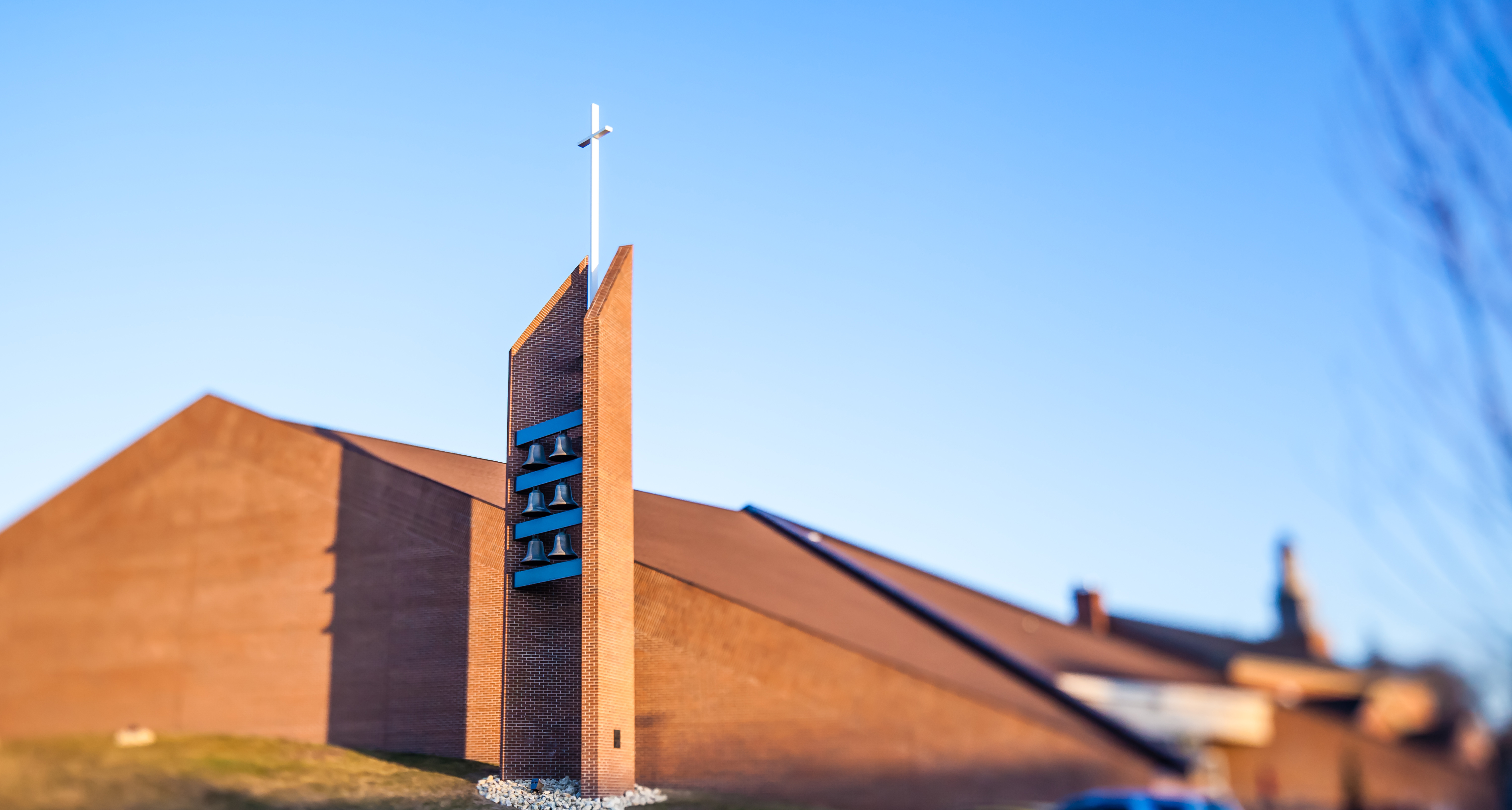 Why wouldn't a group of recent Moody grads want to rescue a dying church? When a Unitarian church invited Harvest Bible Chapel Spring Lake in Michigan to share a building and help cover rent, the Harvest pastors and elders, including several Moody alumni, toured the church and promptly denied the offer.
The pastors—Chris Moeller '09 MA '11, Calvin Wisen '08, and David Wisen (Calvin's father)—were already preparing to launch services in a space they'd been renovating for a year. But they had bigger reasons for saying no.
The Unitarian church, known as C3 Exchange, taught that non-Christians could go to Heaven without trusting in Jesus. The group also invited witches into the church to perform spells, and inside the building were worship spaces dedicated to other religions. So the Harvest leaders immediately understood that their evangelical church couldn't hold Bible studies in a room full of idols—and the rental was off.
C3 Exchange hadn't always been so far off the rails. It began as First Reformed Church in 1870, and was renamed Christ Community Church in 1971. Twenty-five years later it broke ties with the Reformed Church of America when the pastor preached that Jesus wasn't the only way to Heaven. After affiliating with the Unitarians, the church took the new name. But C3 Exchange, representing three Cs—creative, compassion, community—was missing the most important one: Christ. And that wasn't the only thing missing.
The building's bell tower had originally featured a 40-foot steel cross, a local landmark. But C3 Exchange viewed the cross as repressive, a barrier to their goal of an inclusive spiritual community. In 2010 they tore down the unwanted symbol, drafting plans to replace it with a globe, a heart, and the word "Exchange" on the side of the building.
Meanwhile, another Spring Lake group had different plans. In 2009 David Wisen had recruited his son Calvin for a church planting team, as well as Calvin's former Moody roommate and close friend, Chris. After prayer and deliberation, Calvin and Mary and Chris and his wife, Carolyn (Wetendorf '08) Moeller, moved to Spring Lake, believing in the vision of a Bible-believing church. "Our area is hungry for churches that teach the truth of God's Word without apology," says Calvin. "That's what we're trying to do."
By November 2010 a core team of 50 people met weekly in David Wisen's living room. They made plans to renovate a Spring Lake building used by a Christian relief ministry, and soon heard that C3 Exchange was taking down their cross. Why not ask for it, the Harvest leaders thought.
"It wasn't a surprise to anyone when the cross came down," says Chris. "What did surprise us was the publicity in the community when Harvest took the cross."
Then came more complications. After C3 removed the cross, the Harvest group ran into zoning issues and height restrictions. The cross ended up in the backyard of a local sign company.
Harvest Spring Lake moved into their renovated space—minus their landmark cross—and began services in 2011. Meanwhile, C3 Exchange struggled to pay bills for the church building and by summer was meeting in the town's community center. The church without a cross stood empty, on sale for $1.9 million.
The bank approached Harvest and asked if they wanted to buy the building, but Harvest said no, having just settled into their other building. "We were exhausted from the planning and work it had all taken," remembers Calvin. "Our church was about 300 people, and the C3 Exchange sanctuary seated 700. We thought we'd feel like a ghost town."
A contractor listed plans to convert the building into a mixed-use space, but backed out soon after. The bank offered the church to Harvest a second time, and again Harvest said no.
Third Time's a Charm
The Catholic Archdiocese of Grand Rapids announced intentions to convert the building into a school—until they discovered the extent of renovations necessary to bring the property up to code. When the bank offered the church to Harvest a third time at a reduced price, the elder board and other members of the church toured the building again. "It still looked old, but some of the idols and creepy stuff had been removed," remembers Calvin. "That dark feeling, that uneasiness and unsettling feeling was gone," says Chris.
After the staff and elders toured the building and prayed over the decision as a church, Harvest felt the Lord leading them to purchase the space. "It was a challenging season," recalls David. "We kept finding more problems, and we basically had to gut the building." After renovating the new space for almost two years, Harvest planned their first service in the new building. They planned to hold the first service in the new building on Easter Sunday 2014. But one thing was missing—the cross.
Three years after the cross came down, members of the church and town came together on Good Friday as it was welded back onto the bell tower. Installation took four hours and two cranes, but the cross was up by Easter Sunday. "There's nothing magical about the cross itself, it's just 43 feet of metal," says Chris. "I'm more excited about the symbol it is to the community. It's a symbol of hope on the main street of Spring Lake. It shows that we stand united with the other churches that preach the gospel and lift high the name of Jesus above all else."
More than 1,200 people attended Harvest's two services on their first day in the new building. Filling 700 seats was easy for God.
Lots More Alumni
The ministry of Harvest Spring Lake continued to grow. In 2015 Calvin invited his friend and former Moody roommate Ryan Plantz '07, and his wife, Kerry '08, to join the Harvest Spring Lake team. Ryan and Kerry had worked with Calvin at another church, but moved to North Carolina to help plant a church there. After prayer and consideration, they moved to Spring Lake and Ryan became the associate pastor.
Over the years, several more Moody alumni have landed at Harvest Spring Lake. Taylor Bacon '15 serves as the youth pastor, and Immanuel Aziz '17, as well as current Moody students Nate Buchanan and Carlos Grisales, also minister at Harvest Spring Lake.
"Working with so many Moody alumni provides such a sense of family," shares Ryan. "We have similar thought patterns, a high view of Scripture, and a common doctrinal backbone."
Calvin agrees. "The nice thing about working with Moody alumni is that you know they'll have a high view of God's Word," he says. "They'll know it, they'll understand that it's true, and they'll be like-minded. Working with them makes work more fun, and it helps everything move smoothly."
Anneliese Rider is associate editor for Moody's Integrated Marketing Communications department.