BA in Biblical Studies
Develop your skills in studying, interpreting, and applying the Bible
You can grow in your knowledge of the Bible and prepare to serve Christ wherever you go, with your Bachelor of Arts in Biblical Studies from Moody Bible Institute. You'll practice deep analysis of Scripture, focus on how the Old Testament and New Testament fit together, and engage with relevant scholarly ideas. Reflect on how the Bible relates to contemporary life and ministry, and put what you learn into practice.
You'll study under professors who meet with you, encourage you, challenge you to grow, and share their lives with you.
Music Emphasis – You can sharpen your musical skills while you grow in your knowledge of the Bible. Get equipped to serve as a worship coordinator who can also occupy broader ministry roles. You'll be prepared to lead a church worship ministry and integrate worship with valued doctrines.
Interdisciplinary – You can prepare for vocational ministry and graduate-level education in Bible, theology, and related fields. Acquire knowledge of the message and contexts of the Old and New Testaments. You'll study a range of biblical books and topics or specialize in a particular area of your choice.
BA in Biblical Studies Program Plan BA in Biblical Studies—Music Program Plan BA in Biblical Studies Interdisciplinary
Back to Undergraduate Programs
'
Your Biblical Studies Experience
As you study, you'll:
Acquire an in-depth knowledge of the message and contexts of the Old and New Testaments.
Develop your skills in studying, interpreting, and applying the Bible.
Gain skills in researching, writing, and presenting.
Learn to articulate what a passage means in context, how it contributes to the overall biblical storyline, and the implications it has on your life and ministry.
Become familiar with the unifying themes of Scripture, and much more!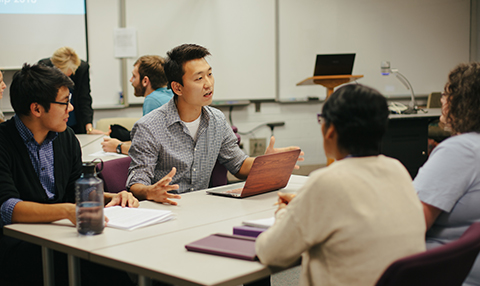 Meet your Biblical Studies professors
Learn from experienced faculty mentors like Dr. Steven Sanchez, division chair and professor of Bible, and Dr. John Goodrich, professor of Bible.
Financial Aid
For on-campus residential students, every class in your degree is paid for by the Chicago Tuition Grant, sponsored by faithful donors. Every residential Chicago undergraduate student is awarded this grant, worth up to $12,960 a year. Off-campus commuter students pay $480 per credit hour. Find out how to defray the remaining costs with scholarships, grants, student loans, student employment, and veterans benefits.