The Power of Partnership
Mark Jobe '84, '98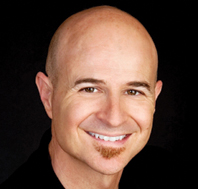 Mark Jobe's vision to replant a church on Chicago's southwest side nearly 30 years ago has blossomed from a handful of people to a multi-site congregation of more than 5,000 meeting at 19 campuses with 33 weekend worship services.
As lead pastor of what today is New Life Community Church, Jobe (B.A. in Pastoral Studies, '84, M.A. in Ministry '98) developed his passion for urban ministry at Moody, where he had many opportunities to serve alongside peers, professors and friends of Moody. Working with others has been a key practice that Jobe believes has contributed to the church's growth. Currently Jobe has 24 pastors on staff, 14 of which are Moody graduates.
"We are incredibly committed to work as a team, and together we believe that we can accomplish extraordinary things for the kingdom of God," says Jobe, whose entire pastoral team meets weekly to go over the passage they will preach on Sunday. "We function as one church that happens to meet in multiple locations, which is a real blast."
The multi-site model reduces the isolation and lack of support in single churches that can cause some pastors to leave the ministry, he says, and also allows the church to reach multiple cultures and languages. New Life's vision is to plant about 20 more churches in Chicago and 10 new churches in other major cities by the year 2020.
Jobe also involves Moody's next generation of leaders in ministry at New Life Community Church, where many students fulfill their Practical Christian Ministry assignments (PCMs), "doing everything from worship to Sunday School to outreach," he says. Other students fulfill their PCMs at one of Jobe's six New Life Centers, which offer help to at-risk children and teenagers in the city. His own son Mark, a freshman at Moody, recently joined his dad during Spring Break to speak at a school's spiritual enrichment week in Ecuador.
"The beauty of being close to Moody is to see the students there launched into lifelong ministry and to partner with them in reaching the city," says Asa App ('86, '91), pastor of New Life Portage Park. He and his wife Elizabeth ('87) planned to be missionaries in a Spanish-speaking country overseas, but as they served youth at New Life they realized that "the mission field is wherever God plants you," he says. Asa has served on staff at New Life since 1993.
The results of working together to plant churches and mentor youth can be seen in transformed lives. For example, Matt DeMateo ('03), youth pastor of New Life Community Church in Little Village (Chicago's largest Hispanic neighborhood), directs the Urban Life Skills program matching Christian mentors with gang-involved youth in the juvenile justice system.
"Since November 2007, we've mentored more than 300 youth," says DeMateo.
To seek God's transforming power in Chicago with the larger Christian community, Pastor Jobe joined two other Chicagoland pastors in Moody's Torrey-Gray Auditorium on April 12 for the One City, One Gospel worship event. Pastor James Ford '84 of Christ Bible Church of Chicago and Moody Radio's Treasured Truth and Colin Smith of The Orchard Evangelical Free Church helped lead the night of teaching, worship and prayer. They asked God to unite believers with boldness and the power of the Gospel to bring an end to violence in the city.