Moody graduate shows his passion for nature photography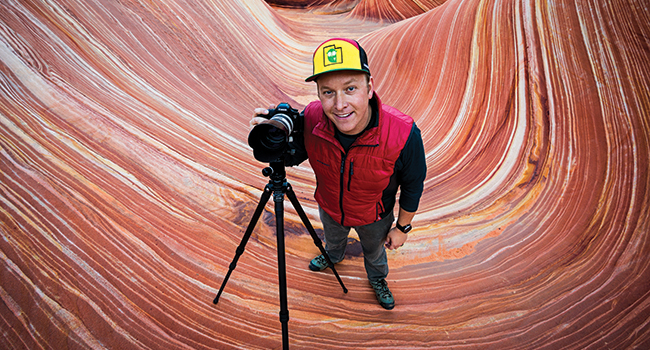 Josh Merrill
When a polar vortex plunged Chicago to 20 below zero in January 2014, Josh Merrill '15 grabbed his camera and headed for Lake Michigan. "I was like a kid in a candy store, going out to the lakefront for sunrise and sunset almost every day. I made some of my favorite images, and in a city of millions, I had the lakefront to myself!"
While some photographers hang up their gear in the winter, Josh says that's when he thrives. With proper gear and preparation, Josh has braved the cold in Alaska, the Canadian Rockies, the Pacific Northwest, and Patagonia (in Southern Chile and Argentina), and then there's his new love of night photography—all to capture God's creation in photos that are winning awards.
Recently, Josh's Canadian Rockies sunrise photo, "Fire and Ice," was chosen for the cover of the 2018 Moody Scripture Calendar. And his night shot from California's Ancient Bristlecone Pine Forest appears inside.
"When most people wouldn't be outside, I get to see so many incredible things." For example, he takes night hikes through bear country with 60 pounds of camera gear—including a tripod, his Canon 5d Mark IV, and up to 10 lenses—then sits for hours to photograph terrestrial landscapes and long-exposure star trails. "Lately, I've been photographing the galactic core of the Milky Way!" he says.
Josh's preparation and respect for nature has grown after a few early blunders, like the time he hiked to the top of a Smoky Mountain trail to see the sunset and forgot to pack his headlamp for the way down. "It got completely dark, and every once in a while, I would whiff with one of my hiking poles, meaning it was over the edge of the cliff."
In addition to selling his work at summer art fairs, last year he began leading photography workshops year-round for eight to 10 participants at his favorite locations. Sometimes he leads a Canadian Rockies workshop with photographer Ken Koskela '87, a fellow Moody alumnus he met on an overlook in the Smoky Mountains. "We made this random connection and later found out we both had images in Moody's Scripture Calendar that year!"
The Moody Lens
Josh's curiosity about nature was nurtured in elementary and high school during homeschool field trips. After getting an associate's degree in photography at a community college in 2011, he decided to pursue a communications degree at Moody. "I was definitely drawn to Moody's reputation for theology," he recalls. Also, his girlfriend (now wife), Andrea (Mackowiak '12) Merrill, graduated the semester before he started. "When I visited her on campus, I saw the Moody community and thought it would be beneficial for me to be a part of."
In addition to his study of the Bible and theology, Josh built his communication skills at Moody through coursework in graphic design, video, multimedia, and writing. "Those things have helped me as a photographer to communicate my vision," he says.
One of his Communication professors, Brian Kammerzelt, was a photographer before he began teaching at Moody. "I always connected well with him and was able to talk shop with him," says Josh, who served as Brian's teaching assistant for a year and a half.
Josh says Kammerzelt's class, Biblical Perspectives on Media and Culture, helped him think through all media from a biblical point of view. "Why are we doing it this way and how can we do it better?" he says. The class covered topics such as the debate between secular and sacred. "For something to be honoring to God, does it have to be explicitly Christian?"
His classes validated his love of nature photography as a worthwhile ministry vocation. "God created the world and nature in a way that is beautiful and that asks to be appreciated and seen," he says. "By being creative myself, I'm imaging forth our Creator God, but I'm also directly capturing the beauty of His creation and sharing it with others."
"It's not an easy way to make a living, but I definitely love it," he adds. "I get to do what I love, and I think I'm pretty blessed."
Linda Piepenbrink is managing editor of Moody Alumni News.